What is ayurvedic walking massage?
Ayurvedic walking massage is a highly effective massage based on traditional ayurvedic knowledge (the traditional Indian medicine system). It is a massage that first of all works with body and bone alignment, and can remedy many different kinds of body pain. The massage furthermore works with pressure points and meridians/nadis and activates these energy pathways and loosens blockages. Ayurvedic walking massage is therefore at the same time a fantastic massage for your overall health, as it in this way balances all your internal systems and your underlying energy system (prana/chi).
How is ayurvedic walking massage taking place?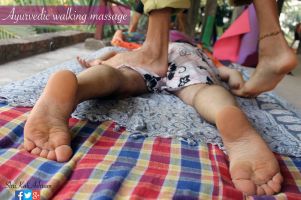 You will receive the massage lying on a mat on the floor, and the giver of the massage will then use his feet to apply controlled pressure at specific points and areas of the body.
You will be fully dressed during the massage.
Learn to give ayurvedic walking massage
It is possible to learn to give ayurvedic walking massage for private use. It is fairly easy to learn to give, and after having tried to give and receive the massage a few times, you will be able to use it in your everyday life. Tantra Yoga DK sometimes has events where learning ayurvedic walking massage is a part of the program, so look under events for more information.
It is also possible to learn to give the massage one-on-one, as a couple or in smaller groups. Contact Tantra Yoga DK for more information about this option.
Booking
Contact Tantra Yoga DK to book an appointment for an ayurvedic walking massage or for further information.
The above pictures are from Shri Kali Ashram